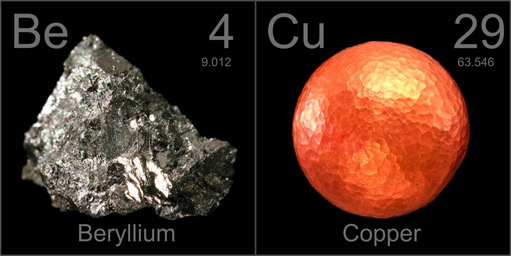 Although Be Cu Manufacturing produces parts and assemblies from numerous metals, plastics and other materials, we are most noted for our expertise with beryllium-copper. No one has more specialized production know-how than the company named for this unique alloy!
Beryllium Copper is a highly ductile material which can be stamped and formed into very complex shapes with the closest tolerances.
This malleability provides outstanding precision for critical miniature parts. However, unlike pure copper, beryllium-copper can be heat treated to harden the alloy into an extremely strong and durable metal. Stamped and formed shapes, such as springs, retain their performance characteristics for long spans of time. The inclusion of up to 2% of beryllium to copper enables the alloy to retain high electrical conductivity. Equally important, heat-treated beryllium-copper features excellent dimensional stability, fatigue resistance and corrosion resistance. Its strength is greater than ordinary copper alloys and many steels.
Although beryllium-copper is more costly than some metals, the manufacturing process is usually more economical. Die life can be longer and downtimes for sharpening are usually far shorter.
The very significant metalworking advantages, combined with beryllium-copper's superior operating performance qualities, make it the obvious choice for the most demanding applications.
Your product's performance can depend on the integrity of the plating. The optimum plating technique can affect solderability, electrical conductivity and other factors relating to the performance of your designs. For these reasons, Be Cu places a great deal of emphasis on quality plating. You should too!
The manager of our plating department has enhanced his knowledge and skills by handling a vast range of plating assignments over the years. To assure the utmost in quality, this department is fully organized with modern equipment and an array of specialized instruments. These advantages are brought to bear on every part we plate from thicknessess ranging from .0001 to .00003.
We are a NADCAP certified plater of Nickel, Tin, Cadmium and Stainless Steel Passivation.